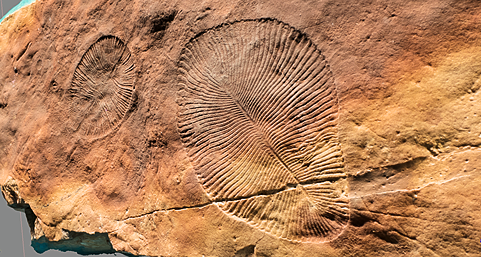 There are many physically missing examples of known fossils.  One of the most fascinating fossils I have come across is Dickinsonia - which is not to be confused with the genus Dicksonia which covers a range of tree ferns. Some of the first specimens of Dickinsonia were found in South Australia by Reg Sprigg. The name Dickinsonia is named after Ben Dickinson, who was then the Director of mines for South Australia.
Dickinsonia are fossils of the ediacara biota from the Ediacaran period 635-543 million years ago - before the Cambrian period. They are unknown life forms which are oval shaped and bilaterally ribbed. We know of their existence as negative impressions on sandstone beds which range from a mere few millimetres to 1.4metres. These organisms were soft-bodied and multicellular - with internally segregated anatomy serving different functions. The segments are thought to contain pressurised fluid, sort of like an air mattress. And the 'muscles', so to speak, allowed movement across the sea bed. They disappeared several million years ago before the appearance of the numerous, hard-shelled organisms in the 'Cambrian explosion'.
At The Traace, we celebrate these fascinating life forms by having their structures hand carved into gemstones.  Particular gemstones were chosen on the basis of their iridescent quality in order to highlight the dynamicism of Dickinsonia.
Above left, 2014 inspiration thanks to Amanpulo, Palawan Island; 
Above right, holiday sketch
Above, @The Traace, sketch book pages    
      2016 labradorite hand carving of Dickinsonia @ workshop in Jaipur
@The Traace 2017, iridescent, hand carved Dickinsonia ring and pendants
Bibliography: